Notes from New York
A recap of my art adventures that kicked off season in the city. 
I recently visited New York for the Armory Show and the opening of the fall art season. With my trusted art advisor Sarah Jane Bruce in tow—who's also helping ONE Sotheby's acquire and curate works for our new Coconut Grove headquarters, a collaboration that further involves art advisor Flavia Masetto, we made the rounds to fairs, galleries and events.
The whirlwind week centered on the Armory Show, which introduced its first-ever Latinx direction, and Independent Art Fair, whose September edition focused on 20th-century art. At the Armory Show, I purchased a work by Hank Willis Thomas from Ben Brown Fine Arts, a London-based gallery with a branch in Palm Beach. Thomas, a Guggenheim fellowship recipient whose work has also been collected by the Whitney and MoMA, focuses on identity and pop culture, among other themes. I chose one of his lenticular text-based works, for which viewers must shift positions to understand wholly their contentas a commentary on how scenarios involve different perspectives. I'm going to display his inspirational work in my office and hopefully encourage this practice in all types of situations.
I would have loved to acquire a cardboard work from Marco A. Castillo's Wakamba Series at Brazilian art gallery Nara Roesler's booth, but it had already sold. He's a founding member of Cuba-born collective Los Carpinteros, so it would be especially meaningful to me to have his work in my collection.
The late Loló Soldevilla represented by Sean Kelly, which had a booth at the Armory, is another Cuban artist on my radar. The sole woman strongly associated with Cuba's geometric abstraction movement, she often used wooden pegs and plastic pieces from the toy factory where she worked. There's much more than meets the eye to her minimal, multimedia works in black and white.
I've been exploring textures lately, so I'm also interested inJessica Dickinson's abstract works on paper. James Fuentes Gallery gave the Brooklyn-based, Midwestern native a solo presentation, so I'm clearly not the only admirer. Needless to say, I'm considering several works by her.
It wouldn't be an art fair without event-packed evenings. Highlights included Lisson Gallery's dinner at the Bowery Hotel's Gemma for Jason Martin and Masaomi Yasunaga; both have shows at its New York location through October 15. Jack Shainman Gallery hosted a reception for Hank Willis Thomas's "Everything We See Hides Another Thing" on view through October 29. Marianne Boesky Gallery's private reception and rooftop dinner for "Jammie Holmes: What We Talking About" celebrated the self-taught Southern artist's inaugural solo show in New York. My son Daniel purchased a painting from the premiere. It greatly pleases me that my children show an enthusiasm for collecting and supporting the arts like their mom.Let's hope it continues with my grandchildren too.
My New York visit got me pumped up for Florida's art season. I look forward to Art Basel Miami Beach and Miami art week's satellite fairs in December, as well as museum exhibits and benefits, and gallery shows from established destinations to new places and pop ups. It's going to be a terrific season.
Hank Willis Thomas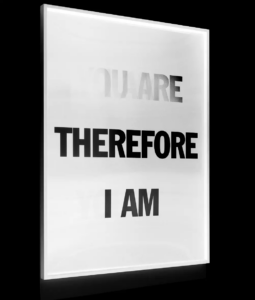 Lolo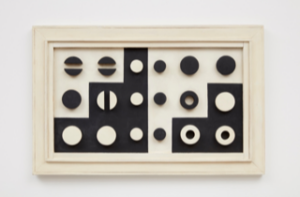 Marco Castillo
Wakamba Series