Aspen is my forever home in my heart 
One of the experiences I look forward to all year long is my family summer vacation in Aspen. From the moment the plane takes off, I feel like a different person because I'm heading to my happy place. Aspen is unique among ski towns for its enrichment of mind, body and spirit. I have to say that this balance works. I learn so much, while also tending to some much-needed self-care. The quality of the people and place constantly amazes me, and there's always something new and exciting to see and do. Please enjoy this summer news so you too can come back refreshed and inspired. Have a wonderful time!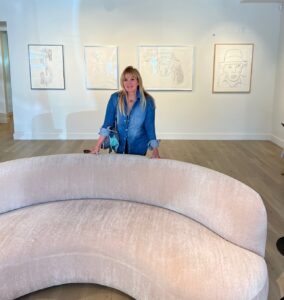 Sotheby's Aspen Gallery
On the top of my list was visiting the new Sotheby's Aspen gallery. It follows up its inaugural exhibit "In Focus: Warhol on Paper," which runs through July 31, with a group show titled "Venice in Aspen" that highlights artists in this year's Venice Biennale. Browse works for sale by Ruth Asawa, Barbara Kruger, Nan Goldin, Jacqueline Humphries, Louise Lawler, Kaari Upson and others from August 2-September 26. The gallery and Cultured Magazine co-host a cocktail reception on August 3 to kick off Aspen ArtWeek.

Aspen ArtWeek
Aspen Art Museum's second edition of Aspen ArtWeek (August 1-6) culminates with its 17th annual ArtCrush Gala at Buttermilk Mountain on August 5. The weeklong program features art conversations and performances, private collection tours and the "ArtCrush 2022 Auction Exhibition" of more than 50 donated works by artists like Larry Bell and Patricia Leite. Bid online during Sotheby's preview auction, which opens July 30 and closes August 6 during the gala's dinner honoring artist Gary Simmons and live auction conducted by Oliver Barker, Sotheby's senior director and chairman, Europe. Phone and absentee bids are welcome as well.

Special Events at The Little Nell
The Little Nell has a ton of fun food and wine events in the works. A roster of Michelin-starred Relais & Châteaux chefs is on board for the second annual Little Nell Culinary Fest from August 30-September 2. In addition to being wined and dined by the likes of San Francisco-based Quince's Michael Tusk, Maui-based Hotel Wailea's Krista Garcia and master somm Jay Fletcher, guests will be treated to a soirée atop Aspen Mountain. Last year's event sold out, so reserve early. Oenophiles who are interested in exploring sensational cabs from Paso Robles should also book An Evening With Patrimony Estate at The Little Nell on July 27. Co-proprietor Daniel Daou will attend and select complementary wines for Element 47's four-course dinner. Hop on a bike for the Ride + Dine series on August 24 and September 14. Cyclists are rewarded with an al fresco meal at Mad Dog Ranch in Old Snowmass, Glenn Frey's and Jimmy Buffet's former stomping ground.

Sweet Summer Music
Aspen Music Festival widened its variety more than ever for its 73rd season. Though the classic composers are still strongly represented, new genres range from mariachi to a saxophonist's Baroque piece. But one doesn't have to visit the festival's big white tent to hear incredible music. Concerts are popping up all over, such as Theatre Aspen's Summer Cabaret Series at the Hotel Jerome, and Jazz Aspen Snowmass's Café Summer Series at the Rooftop at Aspen Art Museum. Stevie Nicks and Chris Stapleton headline the JAS Labor Day Experience at Snowmass Town Park on September 2-4. Head to Snowmass's Fanny Hill for Thursday concerts, or ride the gondola to Aspen Mountain's Classical Saturdays and Bluegrass Sundays.

Shopping
When I'm not hiking or taking an exercise class, I like to get a workout by walking around town. I never tire of Aspen's charming downtown and enjoy checking out the new shops and restaurants. A few Los Angeles brands with locations in the Miami Design District recently moved in:  Alo Yoga, Re/Done for new and upcycled vintage denim and John Elliott for men's and women's sportswear, Japanese denim and Italian shoes. For more flashy footwear, Mia Becar popped up at Peri.A boutique through August 15. Nappa leather espadrilles, raffia flatforms and bejeweled jelly sandals are among its selection handmade in Italy and Spain.
Raizado: The Latinx House Festival
Another sign that Aspen is constantly evolving for a more inclusive era is a new Latinx event premiering at Aspen Meadows resort and conference center from August 30-September 1.Raizado: The Latinx House Festival, Cultivando Nuestro Futuro will be a meeting of the minds to celebrate the Latinx community through art exhibitions, live music, film screenings, panel discussions and cuisine to empower one another with power, culture and truth. It's even more meaningful to me since three women founded Latinx House. They named the festival after the concept of "deeply rooted" to emphasize how deeply rooted the Latinx community is within the fabric of our nation. I'm excited to see how their events grow and what they accomplish.